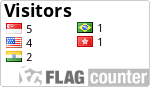 1. How do I submit my abstract or poster?
Complete the registration on our website and submit your abstract to our website (it is possible to do copy-paste from your document). On the website, click "Registration Form". Fill all necessary registration form, then you will receive notification email that you have already register. Please note that abstract should be submitted before the deadline so the committee could inform you if the abstract need to be revised
2. Where can I get the template?
The template for Full Paper is available in the homepage of our website, while for abstract, it is not necessary to upload the file.
3. Why I have not receive email notification after submitting my abstract to the website ?
Once you upload the abstract, you will receive the notification of registration and id number. The issue regarding not receiving email might be caused by the abstract is not uploaded due to error. Please re-submit your abstract again.
4. Do I need to submit Full Paper?
Yes. In order to join the conference, you must submit the full paper of your research.
5. How do I submit my Full Paper?
​Click "Full Paper Submission" in the website homepage. Then you have to fill all necessary form (including your ID Registration that you received in your email); add your full paper; then click submit.
6. How to pay and verify for the conference fee?
You can find the account number on our homepage website/poster. After transfer the payment, please upload the receipt in our website in "Payment Validation" menu. When it is verified, the committee will send you the confirmation. Please transfer at the right amount from which category you are, either International, Indonesian Student, or Indonesian Regular, etc. The payment for early bird should be completed before July, 16. After that date, normal fee will be subjected and the deadline of payment is August, 27.
7. What facilities provided in this conference?
​During the conference, you will get seminar kit, name tag, printed abstract book, and lunch. After conference, you will get certificate of attending ICWRDEP 2019.
8. WHERE WOULD THE CONFERENCE WILL BE HELD ?
During the conference, you will get seminar kit, name tag, printed abstract book, and lunch. After conference, you will get certificate of attending ICWRDEP 2019. For poster session, the committee will provide board during the conference. The conference will be held at Auditorium Tirta Utama, Water Resources Engineering Department, Faculty of Engineering, Universitas Brawijaya. Jl. MT Haryono 167, Malang, East Java, Indonesia. Please refer to our website for detail location.
9. WHAT IS DURATION FOR ORAL PRESENTATION ?
15 minutes, including discussion session. We suggest you to prepare not more than 15 slides. ​
10. DO I HAVE TO SEND MY PRESENTATION FILE TO THE COMMITTEE IN ADVANCE?
Yes, you are needed to do so. In principle, ICWRDEP committee will provide a laptop in each conference rooms in order to ease the authors and activities take place well. ​
11. WHAT LANGUAGE SHOULD I SPEAK DURING PRESENTATION ?
12. WHAT IS THE SIZE OF POSTER BOARD?
The size is approximately 0.8 m (w) x 1 m (h). It can accommodate up to A0 size, DIN A0 – maximum 84.1 cm (width) x 118.9 cm (height)
13. WHAT IS THE DURATION FOR POSTER PRESENTATION ?
The duration is 120 minutes ​
14. IS IT OK IF I SEND MORE THAN ONE PAPER/POSTER?
15. My abstract is accepted but neither me nor my team can attend the conference. Will my full paper be published in conference proceeding? Can I get the certificate?
If no one could attend on conference, then it is not considered as part of the conference and we can not publish it and can not send you the certificate.
​16. CAN YOU ACCEPT ABSTRACT/PAPER WRITTEN IN INDONESIAN LANGUAGE FOR PROCEEDING?
Unfortunately, no. ICWRDEP is an International conference. ​